Great Falls College Graduates 8 Students from first Cohort of Accelerated Structural Welding Course
Montana DLI, Great Falls College, Private Industry Partner to Hold Accelerated Structural Welding Course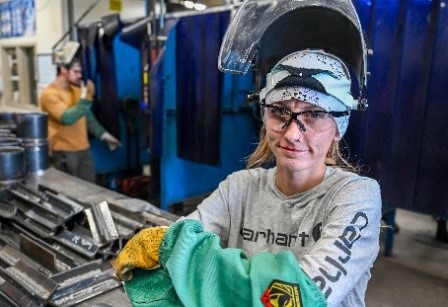 GREAT FALLS- Eight students graduated the first-of-its-kind six-week accelerated structural welding class on Friday at Great Falls College, and many of the students were offered jobs.
"They have taught me a heck of a lot in the six weeks," said Kala Pedersen, who always had been intrigued with the idea of blue collar work but didn't know how to go about finding it until this program came along. "It really caught my attention that it would take just six weeks and prepare me for career and not just a job."
Pedersen, who is a single mom to a 6-year-old boy, initially hesitated to sign up because it's four hours a night, but she decided she could make it work for the short duration and long-term prospect of supporting her family.
"There's so much chance for growth (in the welding industry)," she said. "I'd tell anyone who was interested, they should do it."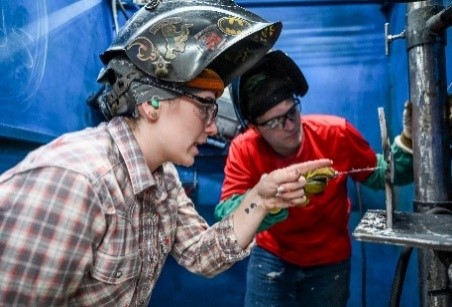 Pedersen also said there are possibilities to find tuition assistance for those who can't afford the $3,000 registration fee. 
The class came about as a partnership with the Montana Department of Labor & Industry, Great Falls College, ADF International, Allied Steel, and Montana Vocational Rehab to equip individuals with essential skills and qualifications to build careers in the critical welding industry. 
"The students participated in hands-on training, gained practical experience, and built a strong foundation in structural welding techniques," said instructor Melissa Pate, who also is an employee development professional at ADF International in Great Falls. "I feel incredibly proud reflecting on the growth of these students. Many of them started with little to no knowledge of what we do. They have come a long way, and I am hopeful that many of them will be able to obtain employment in the industry."
"It allows individuals opportunities they may not be aware are available to them," said Trevor Floerchinger, ADF production manager. "The program is designed to take an individual with little to no skill set or experience and set them up to be able to step into a production welding facility and go to work, at more than an entry-level position. Many of the students already have been offered jobs."
A second cohort is already scheduled to take place Oct. 2 – Nov. 9. The October class already is full, and a third cohort in January 2024 is nearly full. Those interested in signing up or learning more should contact Great Falls College's Continuing Education and Training at (406) 268-3734.
Upon completing the program, the students are eligible to test for welding qualifications. This first class is awaiting results from the test.
The effort was spearheaded by the Department of Labor & Industry's Business Engagement Team, which partners with private-sector industry and educational institutions to address critical gaps in the state's workforce.
With demand on the rise across Montana for skilled professionals in the welding industry, the course is serving as a model for how cross-functional partnerships between state agencies, private-sector employers, and educators can help bridge the skills gap and empower Montanans to pursue rewarding careers in dynamic fields.
"The demand for welders statewide has become critical, and DLI projects Montana will need 220 new welders every year just in the next 3-5 years. These are good paying jobs, averaging nearly $50,000 a year or more. I am ecstatic to see these students graduate in a short amount of time with the skills needed to succeed in our workforce," said Sarah Swanson, Department of Labor Commissioner.
"The most rewarding part of working in education is seeing students change the course of their lives and put their families in strong positions for success," said Dr. Stephanie Erdmann, CEO and dean of Great Falls College. "We are grateful for our industry partners and state leaders as we work together to change lives with solutions that benefit the entire community."
"As our economy grows, so are opportunities to work in a good-paying job here in Montana," Gov. Gianforte said. "We'll continue to think outside of the box and push beyond the traditional brick-and-mortar system to prepare students for the jobs of tomorrow and build a highly skilled, highly qualified workforce. Congratulations to these hardworking Montanans. I wish you great success in your career."