DLI Data: As Pandemic Receded and Workers Return to Jobsites, Workplace Injuries Rise
HELENA- The Montana Department of Labor & Industry announced today the number of workplace deaths in Montana returned to the pre-pandemic mean. Montana experienced 40 fatal work-related injuries in 2021, according to the Census of Fatal Occupational Injuries (CFOI) program. In 2020 in the midst of the pandemic when many Montanans were working from home there were 29 workplace fatalities in Montana.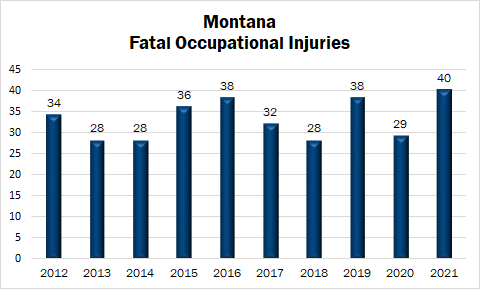 The fatality census, conducted throughout the nation, is part of a U.S. Bureau of Labor Statistics safety and health statistics program that provides a complete count of fatal work injuries in all 50 states and the District of Columbia.  These fatality statistics are used to fulfill a commitment to increasing safety in the workplace.
"As more Montanans returned to work in 2021 the number of fatal occupational injuries fell in line with past years, said Employment Standards Division Administrator Eric Strauss. "In 2020 the number of fatalities was naturally lower as more Montanans were working from home."
Of the 40 fatalities reported, 36 were in Private industry and 4 were in Government.
Transportation incidents were the leading cause, or event of fatal occupational injuries to Montana workers during 2021, accounting for 23, or more than half of the 40 fatalities. Aircraft and train incidents, vehicle incidents, pedestrian vs vehicle, collisions between vehicles, and non-collision incidents such as jack-knife or overturn of vehicles could be considered a transportation event. 
Vehicles could include a fire truck or a semi-truck, automobiles, passenger vehicle, animal powered vehicles, on road or off-road terrain vehicles, farm tractor or an industrial tractor.
Montana Highway Patrol reported 192 motor vehicle crash fatalities in 2021. Of these fatalities, 40 were work related, showing about 21% or 1 in 5 crashes are work related.
The CFOI study includes data for all fatal work injuries, whether they are covered by the Occupational Safety and Health Act or other federal or state agency regulations or are outside the scope of regulatory coverage.  Information on work-related illnesses are excluded from this census because of the latency period of many occupational illnesses and the resulting difficulties associated with linking illnesses to work.
Read the full report