DLI Newsletter | October 2022
Message from the Commissioner:
Dear Reader,
Happy Halloween! I hope everyone has a happy and safe Halloween. Please see below for the latest news on how DLI is working to better serve Montanans. 
Sincerely,
Laurie Esau
Commissioner of Labor & Industry
---
Unemployment Insurance Available to Victims of Domestic Violence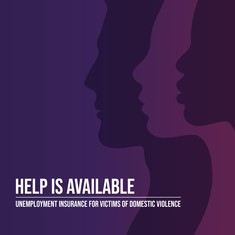 October is Domestic Violence Awareness month. Did you know that the State of Montana offers unemployment insurance to those who have been impacted by domestic violence and have to leave their job?
This applies to both the claimant and a child/children who are victims of domestic violence, stalking, or sexual assault. The Montana Department of Labor & Industry requires certain documentation in order to be eligible for the unemployment insurance. For more information click here. 
---

State Workforce Innovation Board
Montana's State Workforce Innovation Board advises the Governor on statewide workforce development strategies that maximize the state's education, training, and employment resources in support of economic development.
To highlight the great efforts being made for workforce development from secondary school to post-retirement, The SWIB coordinated efforts with the Worlds of Work (WOW) Event, which took place earlier this month in Great Falls. WOW Great Falls offers 16 Career and Technical Education tracks for students to explore, from vocational opportunities and beyond, promoting awareness of exciting career opportunities and addressing local and community workforce needs. Hundreds of students were in attendance for hands-on introductions to a wide range of in-demand career paths. 
SWIB also hosted a quarterly board meeting to discuss important workforce challenges, opportunities, and solutions. This board meeting focused on the many facets of the state's economy, licensing reform, Workforce Innovation and Opportunity Act (WIOA) funding allocation streamlining and simplification, and goals for the board for the next year.
The SWIB continues to fulfill its mission to advise the Governor on statewide workforce development strategies that maximize the state's education, training, and employment resources in support of economic development.
---
Montana Employment, Labor Force Continue Growth in September
Montana's total employment hit a new record high in September, growing by nearly 200 jobs with 551,578 Montanans working. The state's labor force continued its record growth in September, adding 736 workers with nearly 568,000 Montanans in the state's workforce.
As in August, total employment in Montana was slightly outpaced by labor force growth, leading to a 0.1% increase in the unemployment rate to 2.9%. The rate remains among record lows experienced in 2022, 2021, and 2007.
For more information, click here.
---
Montana Releases Post-Secondary Workforce Report
The Montana Department of Labor and Industry, in conjunction with the Office of the Commissioner of Higher Education, recently released the Montana Post-Secondary Workforce Report analyzing whether the state's workforce training systems are effectively providing a skilled workforce for the Montana economy. The report finds most (75%) of graduates work for a Montana employer in the ten years after graduating, thus contributing to the state economy.
Further analysis identifies gaps where Montana's education and training systems are not meeting the worker needs and skill needs of employers. 62% of high-demand occupations are undersupplied. Many of these occupations are in education, healthcare, and construction. To read the report click here.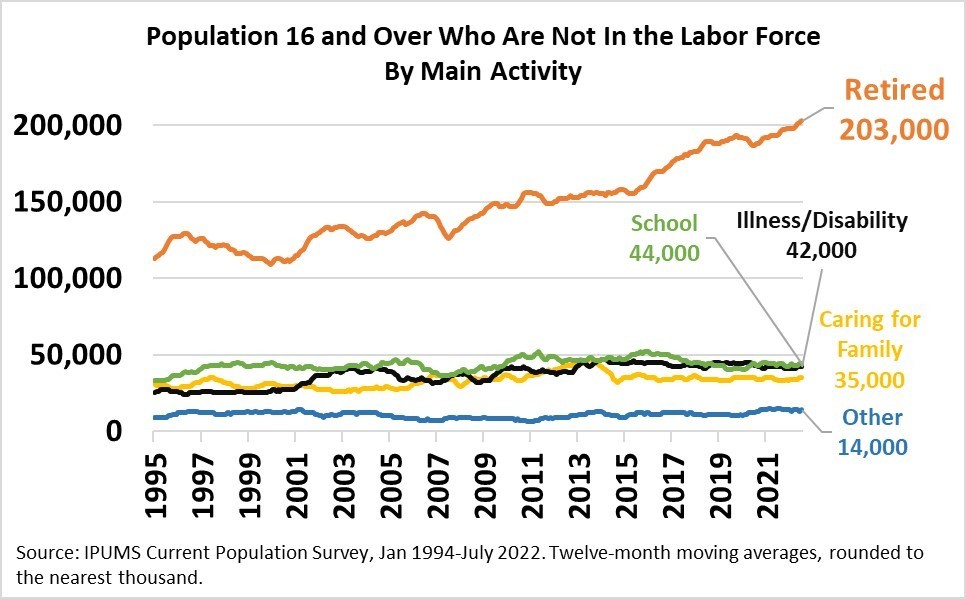 Retirees are the largest group of working age adults not in the labor force—and they're growing rapidly. In Montana, the number of those out of the labor force due to retirement has increased by 50,000 over the past decade. For many, retirement isn't just a one-time event, but a process in which workers exit the labor force and re-enter, with nearly 40% of workers over 65 having previously retired.
According to national surveys, nearly half of retirees would return to work under the right circumstances. Most retirees want to control how and when they work and are also less likely than their younger counterparts to rate formal benefits as important. They're also more likely to report lacking social connection in the workplace suggesting employers may need to focus more on keeping older workers socially connected in the workplace.
---
JMG Receives National Performance Award for the 17th Time
The Montana Department of Labor & Industry announced today Jobs for Montana's Graduates (JMG) has received the national "5-of-5 Award." The award honors states who achieve or surpass a 90% graduation rate, 80% positive outcomes rate, 60% employment rate, 60% full-time jobs rate, and an 80% full-time placement rate. State results are compiled after 12 months of follow-up college placement and career pathway support for each graduating class.
Jobs for Montana's Graduates (JMG) impact for those who graduated in 2021:
94% graduation rate (national goal is 90%)
84% job placement, including military (national goal is 60%)
97% full-time positive outcome rate, meaning either landing a job, joining the military, or going on to post-secondary education (national goal is 75%)
97% in full-time jobs (national goal is 60%)
35% further Education rate (national goal is 35%)
---
ABC Clinics Close Out the Year with Great Success!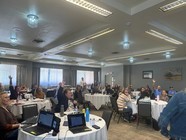 October wrapped up this year's Assistance for Business Clinics. In total, 500 people attended sessions in 11 communities across the state. Sixty-five speakers presented 93+ hours of information ranging on topics from Workers Compensation to Child Support & New Hire information. Thanks to our community partners for making this year another great success! This series is held annually to assist individuals and businesses alike. To learn more click here.