Montana Post-Secondary Workforce Report Highlights Opportunities for Montana Workers
HELENA –The Montana Department of Labor & Industry this week released the 2022 Post-Secondary Workforce Report, which evaluates how the state's workforce training systems provide a skilled workforce able to meet the needs of Montana's economy. The report, compiled by DLI's Data & Operations Bureau in collaboration with the Office of the Commissioner of Higher Education and other post-secondary education institutions, examines Montana's post-secondary education pathways and whether students are graduating in fields that align with workforce demands.
Among other findings, the report highlights the potential of Registered Apprenticeships as a pathway to good-paying, sustainable careers. The report's data indicate workers who complete an apprenticeship earn, on average, double the wages of a graduate with a Bachelor's Degree. Ten years after completion, apprenticed workers still earn, on average, more than $14,000 per year than graduates with four year degrees.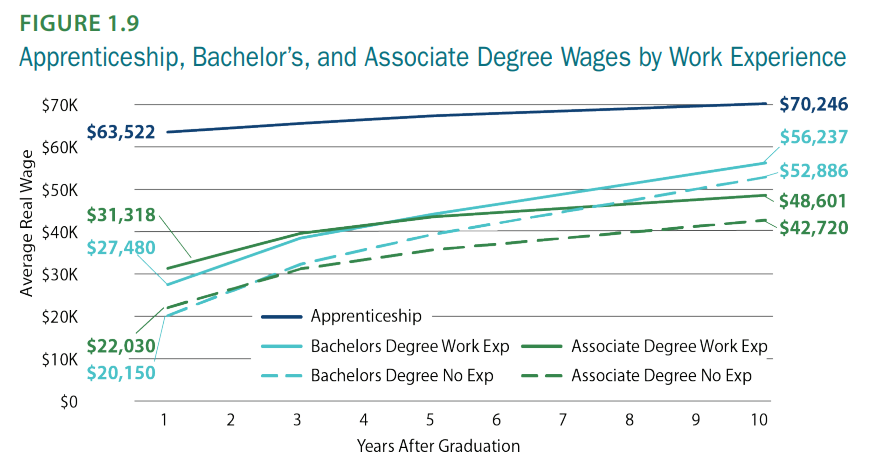 Source: Montana Post-Secondary Workforce Report
Other highlights from the report include:
Four-year colleges recruit more students to Montana than the number who leave the state after graduation, making them a net importer of workers. About 60% of four-year college students are from Montana while 40% are from out-of-state

.

Nearly 75% of graduates from Montana post-secondary institutions work in Montana at some point in the ten years following graduation. Approximately 69% work in Montana one year after graduation, with roughly 56% still working in the state after ten years.
The median income of graduates is $31,800 a year after graduation, with half earning somewhere between $20,000 and $47,000 in income. Graduates' median incomes exceeded the statewide median in the first year after graduation and was roughly $54,000 ten years after graduation.
Registered nurses, dental hygienists, electricians, and plumbers have the best workforce outcomes among short-term degrees. Graduates from these programs reported average incomes above $55,000 one year after graduation and 90% or better retention in the Montana economy.
62% of high-demand occupations are undersupplied. Many of these occupations are in education, healthcare and construction.
Large supply gaps in construction and transportation suggest there are insufficient workers to fill Montana jobs, particularly among occupations requiring less than a four year degree.
Workers who complete a Registered Apprenticeship have more than double the wage earnings of those earning an associate or bachelor's degree after one year. Approximately 94% of apprenticeship completers work in Montana after graduation and earn an average wage of $63,500.
"This report proves what we've long known: apprenticeships are a tried-and-true pathway to success in a good-paying, in-demand career," said Department of Labor & Industry Commissioner Laurie Esau. "The findings in this report will help educators and policy makers better understand where our post-secondary education providers are best meeting Montana's needs, and where there is room to expand to ensure a robust Montana workforce for the future."
###