DLI Newsletter | September 2022
Message from the Commissioner:
Dear Reader,
Montana's economy remains strong as we reach the closing months of 2022. The Department of Labor & Industry has been working diligently to provide high-quality customer service for both employers and workers across Montana, and we have quite a bit of good news to share this month. Thank you as always for your attention to this newsletter, and if there is ever a way the Department can be of service to you, please don't hesitate to contact us.
Sincerely,
Laurie Esau
Commissioner of Labor & Industry
---
2022 Labor Day Report Released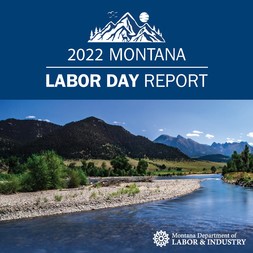 The Department of Labor & Industry's Labor Day Report is an annual document summarizing the state of Montana's economy and highlighting recent trends in the labor market. In 2021, Montana had a year of records, as the economy swiftly rebounded from the pandemic. Fast job and GDP growth, low unemployment rates, and rising wages all contributed to Montana's strong year of growth.
Fast growth has its growing pains, though, and Montana has challenges to overcome including an aging workforce, rising prices, and growing concerns with housing affordability.
Learn more about the labor market trends affecting businesses and workers across the state. Check out the full report.
---
Modernizing Professional Licensure
As part of Governor Gianforte's Red Tape Relief Initiative, the Department has been conducting a public engagement and outreach effort to reduce, eliminate or streamline unnecessary regulations in the delivery of licensed professional services. Our goal is to collaborate directly with stakeholders -- licensees, customers, and the public at large -- to better deliver licensing services.
DLI has surveyed thousands of licensees from across a wide range of professions on ways we could improve and strengthen the licensing process. We have been conducting public listening sessions to gather feedback on the ideas compiled so far. Our next listening session will take place, in person, on October 17th, in Helena.
This is a critically important topic that has wide-ranging impacts on many Montanans. Please take a moment to learn more about what we hope to accomplish and to share your views. Click here to visit our Licensure Reform page,which includes a host of information and details of the October 17th session and future public engagement events.
---
Jobs for Montana Graduates Receives National Performance Award
The Department of Labor & Industry Jobs for Montana's Graduates (JMG) program, partners with schools across the state to support the growth and success of Montana students. An affiliate of Jobs for America's Graduates, Montana's JMG program has received the national "5-of-5 Award." The award honors states with programs whose students achieve or surpass a 90% graduation rate, 80% positive outcomes rate, 60% employment rate, 60% full-time jobs rate, and an 80% full-time placement rate. 
These outstanding metrics prove the value of JMG's partnership with our schools. Our JMG program does an incredible job of equipping the future of Montana's workforce with the tools necessary to succeed. 
Learn more about  Jobs for Montana's Graduates.
---
More Assistance for Business Clinics in October
After a successful summer tour, the Department of Labor & Industry's Assistance for Business Clinics (ABC) has returned this fall. These in-person information sessions provide business owners, accountants, bookkeepers, human resource professionals, and attorneys with updated information on various topics important to businesses of all sizes.
Topics will include unemployment insurance tax requirements, workers' compensation coverage, Independent Contractor regulations, tax incentives, minimum wage and overtime rules, new hire reporting, USERRA laws and regulations, and workforce resources.
You will hear from subject matter experts from DLI, the Dept. of Health and Human Services, Dept. of Revenue, Vocational Rehab, and the Employment Services of the Guard and Reserve.
The Clinics are also a terrific way for professionals to attain continuing education credits such as CPE, CLE, HRCI, SHRM, and OPI. In September, DLI hosted clinics in Kalispell, Polson, Billings and Butte.
Two clinics are scheduled for October. Use the links below to register:
---
SafetyFestMT at Billings Hotel and Convention Center
SafetyFestMT is a Department of Labor & Industry event aimed at improving workplace safety and health through education, awareness, and connection. Education sessions are free and provide attendees an excellent opportunity to learn from and connect with industry subject matter experts. SafetyFestMT Billings took place from September 20th - 22nd at the Billings Hotel & Convention Center. We had an excellent turnout representing employers and stakeholders from around the state. Thank you to all who attended and a special thank you to those who took the time to present to our attendees.
Stay tuned for more information about future SafetyFestMT events.
---
Learn How our Labor Market Information Page Can Benefit You
The Department of Labor & Industry tracks labor market information (LMI) across the state. LMI can be helpful to businesses by providing average employment wages to industry, local economic conditions, data projections based on occupations, and so much more. Learn about LMI.
---
Another Successful Governor's Conference on Workers' Compensation
DLI hosted the 2022 Governor's Conference on Worker's Compensation in Missoula this week, a successful event with terrific attendance. Topics included the state of the workers' compensation system today, improving workers' outcomes with evidence-based medicine, and how to attract a new generation of employees to the workers' compensation field.
Thank you to all who attended, those from around Montana and other parts of the country who shared their knowledge with attendees, and the DLI team members who put this conference together each year!