Governor Bullock, President Bodnar Host Roundtable to Discuss Workforce Solutions
MISSOULA - Governor Steve Bullock and President Seth Bodnar today convened a roundtable with a local employer and a recently reenrolled student to highlight education and training initiatives designed to meet workforce needs in Montana.
"There are 120,000 Montanans who attended a Montana University System institution but left before attaining a degree or credential," Governor Bullock said. "Become an Alum is aimed at identifying these students and showing them that there is an opportunity to finalize that degree and gain a credential and skills that employers will be looking for as they seek to fill in-demand jobs."
Governor Bullock and President Bodnar celebrated the initial success of Become an Alum, a partnership between UM and the Department of Labor & Industry, which encourages former students who did not complete a college program to return and attain a credential, certificate, or degree in an in-demand and good-paying field.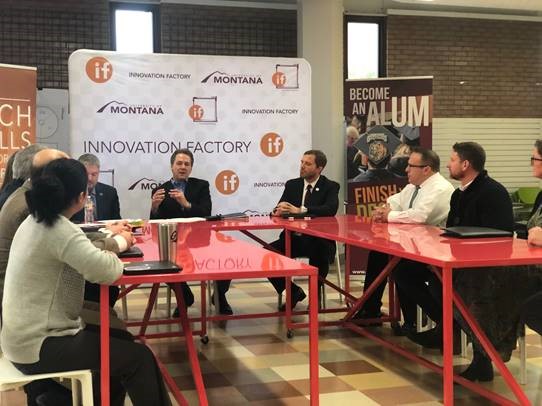 DLI and UM have worked together to reenroll 99 students this fall with another 38 students committed to attend in spring 2020. Local employers will also benefit from the program and 16 businesses so far have expressed interest in using the program to recruit recent grads or upskill their current workforce.
The pilot program kicked off with identifying students who completed some credits at UM within the last five years but didn't complete their program. DLI and UM staff then began contacting the group of former students to assess barriers, discover their interests, and offer intensive and individual career guidance and case management services if they express interest in resuming their education.
Governor Bullock and President Bodnar also heard from a student in the Become an Alum program who shared their perspective on the barriers they faced to completing their education and training. First Call, a local employer, discussed the challenges of recruiting skilled workers and how they plan to utilize Become an Alum as a recruitment tool to find recent graduates.
Become an Alum is a program within the Future Ready Montana Cabinet, an initiative directed by Governor Bullock to coordinate education and workforce initiatives and increase the percentage of Montanans who complete a degree, certificate or other credentials. Through the Future Ready initiative, state leaders and education and workforce partners examined labor market data and wage outcomes to ensure Montanans in a variety of education and training programs can make informed decisions about their future. Other efforts of Future Ready include enhancing dual enrollment, career and technical education, work-based learning, and apprenticeships.
President Bodnar underscored Tech Skills for Tomorrow, a recently launched public-private partnership to provide education and training to fulfill the high-tech workforce needs in Montana. With partners such as Amazon Web Services, the Montana High Tech Business Alliance, Missoula Economic Partnership and DLI, the university is offering coursework to train students in cloud-based computing.
"At the University of Montana, we are in the business of creating inclusive prosperity for all. Programs like Become an Alum and our Tech Skills for Tomorrow initiative address current workforce needs and help shape Montana's economy of tomorrow," President Bodnar said. "As we continually build innovative and responsive programs for students at all stages of their lives, we foster future-ready students, a future-ready workforce, and future-ready Montana businesses. This is how we ensure a resilient future for all."
The roundtable took place at UM's Innovation Factory as the university commits to innovative educational experiences.
Contact Jessica Nelson: Public Information Officer, Department of Labor and Industry