Apprenticeship program brings training and employment opportunities to Mineral County
ST. REGIS - On Tuesday, Aug. 20, Montana Department of Labor & Industry officials visited the Idaho Forest Group St. Regis Mill as 12 apprentices signed paperwork to join the company's first Montana Registered Apprenticeship program.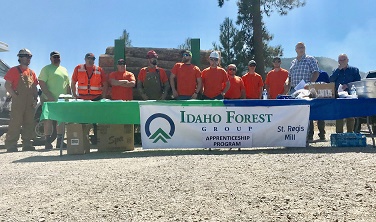 Chris Clairmont, Principal of Superior High School, said the School to Registered Apprenticeship partnership is bringing new opportunities for young people to stay in the area.
"We want kids to have a plan after high school. We can help them start their future careers and stay in the community through things like this," Clairmont said. "We want to provide a good future for whatever our kids want to do, and this is a good option."
Clairmont has played an essential role in guiding young people in the area to paths where they can build meaningful careers, including through apprenticeship.
This apprenticeship opportunity and mill has brought a much-needed source of employment growth to the area. Unemployment in Mineral County is currently at 3.9%, placing them 51st when compared to all 56 Montana counties. Our department is committed to implementing training programs like this to work to give Montanans the skills they need to join the workforce for increased economic stability.
Derek Weiland, a current millwright apprentice, said the apprenticeship program at the mill is helping young people in the area gain the skills they need to join the workforce.
"This is a great opportunity to better yourself," Weiland said.
Idaho Forest Group Regional Manager Jesse Short, Idaho Forest Group Plant Superintendent Curt Smith and Montana Registered Apprenticeship Program Director Jay Reardon also spoke at the event.
The Montana Registered Apprenticeship Program is an excellent training model that assists employers in building a highly customizable and skilled workforce to meet their business needs. In turn, apprentices immediately start working and earn a paycheck while completing the required training and instruction. Upon completion, apprentices receive an industry-recognized credential that ensures future employers know the apprentice is qualified.
"Idaho Forest Group has made a commitment to apprenticeship to ensure that we have the skilled workers that we need to be successful," Marie Price, Idaho Forest Group's Director for Training and Development said after the event.
The Montana Registered Apprenticeship Program recognizes apprenticeships in over 100 occupations. While trades continue to make up most apprentices, the program has developed curriculum for occupations in healthcare, manufacturing, finance, and information technology.
"Idaho Forest Group is a wonderful example of how our apprenticeship program creates new opportunities for students to stay in their local communities." Reardon said. "We are excited to continue this program's growth by assisting sponsors as they invest in Montana's workforce."
The number of sponsors continues to grow as Montana businesses respond to the increasing demand for workers. Sponsorship has grown by approximately nine precent each year over the last three years. Apprenticeship also encourages workers to stay in Montana. Nearly 90 percent of apprentices that graduated since 2012 are still working in Montana.
Contact Jessica Nelson: Public Information Officer, Department of Labor and Industry