Department of Labor & Industry Epidemiologist Recognized for Advancing Nursing Workforce
HELENA, Mont.-The Montana Department of Labor & Industry today announced the Montana Nurses Association (MNA) has recognized Julia Brennan with the Barbara Booher Friend of Nursing award. According to the association, this award is granted to a non-nursing individual who has advocated for and/or significantly advanced the field of nursing in Montana.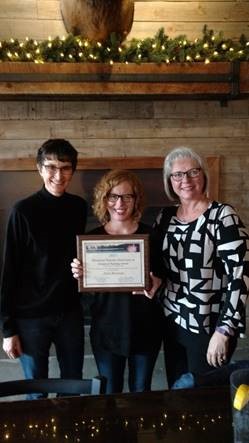 To receive this award, candidates must have met the following criteria:
Show significant long-term contributions made by a non-nurse to Montana's professional nursing community;
Facilitate significant accomplishments for the Association; and
Play a key role in assisting major successes with the professional nursing community. 
"It is with great appreciation and high regard that we nominated and awarded Julia Brennan with the Barbara Booher Friend of Nursing Award," said Montana Nurses Association Executive Director and Registered Nurse Vicky Byrd. "Time and again, Julia has demonstrated a wealth of knowledge pertinent to gathering statistical data and presenting this evidenced based data in a way that was relevant and easily understood."
During Brennan's tenure at the agency, she has developed the Montana Occupational Health and Safety Surveillance (MOHSS) program. Funded by the National Institute for Occupational Health & Safety (NIOSH) this program provides useful, data-driven information focused on health issues facing Montana's workforce.
"Making sure that Montana's workforce comes home safely after their shifts end is key to a strong economy," said Employment Relations Division Administrator Eric Strauss. "Julia's commitment to providing accurate, evidence data is helping us find the causes of why workers get injured on the job. This is a well-earned recognition from the Montana Nurses Association."
Julia holds a Master of Public Health degree in Epidemiology from Emory University in Atlanta, Georgia, and a Bachelor of Science degree in Biomedical Sciences from Colorado State University in Fort Collins, Colorado.
The Montana Nurses Association promotes professional nursing practice, standards and education; represents professional nurses; and provides nursing leadership in promoting high quality health care.
Contact Jessica Nelson: Public Information Officer, Department of Labor and Industry