Dave Cook Honored for Increasing Public Safety Awareness and Education
MONTANA-The Montana Department of Labor & Industry (MTDLI) today announced the International Code Council (ICC) has recognized Dave Cook with its Meritorious Service Award.
For over fifteen years, Cook has worked at the agency furthering the cause of safety and innovation through pioneering and creative leadership approaches, as the Bureau Chief for the Building Codes Bureau at the depa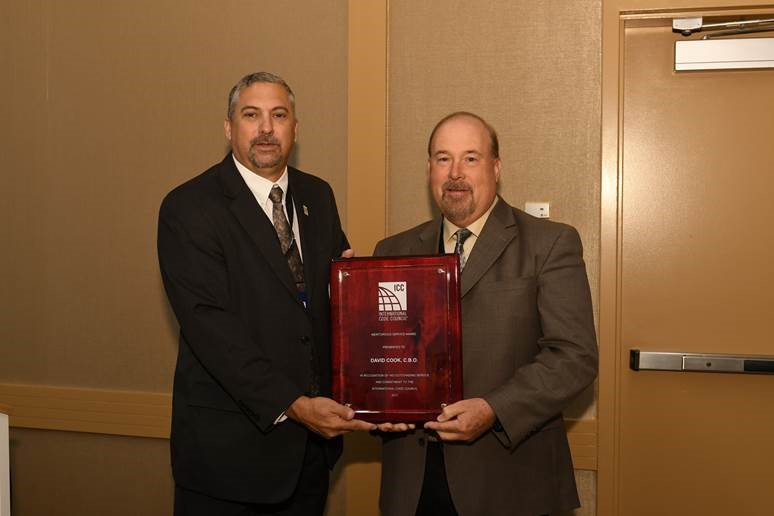 rtment.  In his current role, he serves as the Deputy Division Administrator for the agency's Business Standards Division.
"This is well-earned recognition," said Acting Commissioner Galen Hollenbaugh.  "Dave has spent his career in state government making Montana families and businesses safer, all while remaining dedicated to customer service, efficiency and wise use of state dollars and resources."
Cook was instrumental in creating the bureau's Citizen Access Portal, allowing stakeholders to access permits via an internet connection or smart phone.  During his tenure, the state's Building Codes Education Conference has grown from a one-day, 30-person class to a four-day event with more than 1,000 participants.
"He is innovative and creative, and through his consistent commitment, Dave inspires his staff and the people around him," said Hollenbaugh.
According to ICC, the Meritorious Service Award is granted to an individual who has given unselfishly of time and talent in furthering the development of ICC codes and standards.
"We are pleased to award David Cook the 2017 Meritorious Service Award, which is granted to an individual who has given unselfishly of time and talent in furthering the development of International Code Council codes and standards. Mr. Cook truly embodies this award," said Immediate Past President of ICC's Board of Directors M. Dwayne Garriss. "He has been active in national code development activities for more than two decades and has advanced safety in the built environment through innovative leadership and collaboration with stakeholders from all sectors of the industry." 
The International Code Council is dedicated to developing model codes and standards used in the design, build and compliance process to construct safe, sustainable, affordable and resilient structures.
Contact Jessica Nelson: Public Information Officer, Department of Labor and Industry